If you're a regular reader on this blog, you know that I talk about coffee a lot. I'm an iced coffee fanatic, and getting my Master's degree only compounded that. I think there was a point in time where my veins contained more coffee than blood. All my classmates tried to 'quit' or 'cut back' on caffeine at some point during our tenure, but I am NOT a quitter. Now that I'm done with grad school and navigating the real world, I've settled at around 3 cups or 2 iced coffees a day, which may still seem excessive, but makes me oh-so-happy.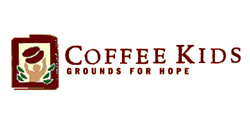 I've become increasingly particular over the years about the coffee I purchase, paying special attention to sourcing and production practices. If you've not already seen the documentary
Black Gold
, give it a watch. It's been almost two years since
I first saw it
, and I've held up my oath to never, ever, ever purchase a bag of coffee that isn't either
Fair Trade Certified
,
Rainforest Alliance Certified
or a sponsor of
Coffee Kids
- a non-profit that works to improve the quality of life in coffee-growing communities, supporting healthcare, education, food security, capacity building and economic diversification programs.
I strolled into my local organic food market recently to pick up some java, and walked out with
BuyWell Fair Trade Coffee's
Peru Cafe Hope
- which directly supports women farmers. In addition to their Fair Trade and USDA Organic certifications, they're also Renewable Energy Certified. Talk about setting the bar high. Makes me wanna thank their mamas for raising them right!
I like to try new coffees black at first, even though my drink of choice is iced and sweetened with soy milk.
Aroma: Earthy, Woody
Taste: Bitter, Chocolatey Notes
Mouthfeel: Medium - Heavy Body
Simply put- one solidly delicious cup of coffee that tastes as good as it's business practices feel.
*RELATED NEWS*
I'm interviewing tomorrow for a coffee company with similar values here in NYC. Fingers crossed. I have some exciting ideas for their brand, and I'm IN LOVE with their products!
***

What do you look for when purchasing coffee?
Do you research sources? For what products? Are some more important to you than others?